---
About The Speaker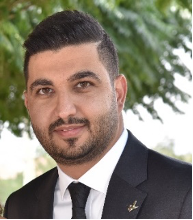 سلام حيدر
مدير المطابقة في قيمة.
سلام حيدر هو مدير المطابقة في شركة قيمة لإصدار الشهادات. يمتلك خبرة 9 سنوات من العمل على برنامج الهيئة السعودية للمواصفات والمقاييس والجودة (SASO)، فهو يقود ويدير فريق إصدار الشهادات في منطقة الشرق الأوسط، ويدعم تطوير الإجراءات المتعلقة باللوائح الفنية الجديدة للهيئة وبرامج أخرى.
---
About The Organization
QIMA is a leading provider of supply chain compliance solutions, that partners with brands, retailers and importers to secure, manage and optimize their global supply network.
QIMA has on-the-ground presence in 95 countries, combining industry-leading experts for onsite inspections, supplier audits and lab testing with a digital platform that brings accuracy, transparency and intelligence for quality and compliance data.
For all our clients in 120 countries who use the QIMA platform and benefit from 24/7 support in over 20 languages, QIMA is Your Eyes in the Supply Chaintm.